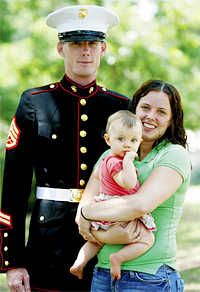 In times such as these, with our military stretched to dangerous levels, military chaplaincy tends to follow the same trend.
Patriot Baptist Church dedicates itself to assisting the active duty and reserve component families, on the West Side of Albuquerque and Rio Rancho, by ministering first to their spiritual needs and then to the daily needs of families of deployed service members. As members of our fellowship we are available to assist you with instruction in such things as budgeting and bill paying, servicing your auto, disciplining your children, and caring for newborns. Counseling is also available to spouses and children under stress.

Veterans too, are not without needs. Making the transition from military life and continual deployments to home life is often difficult for the entire family. Being a military retiree and a 100% disabled veteran, Pastor Ed is well versed in veterans benefits and how to obtain them. Additionally, spiritual counseling is provided to members and their families to help with transitional issues.

Do you feel alone and isolated?

As with any Christian fellowship, our primary mission is to spread the gospel of Our Lord and Savior Jesus Christ. The job of a pastor, or shepherd, is to feed, tend and protect the flock. Here at Patriot Baptist Church, we take this mission seriously and embrace our service and veteran families as our own. At Patriot,

"You are never alone"